07/13/2007
TV Home / Entertainment Channel / Bullz-Eye Home
ALSO:
Have a question for Will or a comment about one of the new fall shows? Post your thoughts at Premium Hollywood!
You've heard of "Meet the Press"?  Now prepare to meet the press tour.
I'm speaking of the TCA press tour. The Television Critics Association, a small but well-respected group of writers who spend way too much of their time watching TV, regularly meets twice a year – once in the summer, once in the winter – to talk shop with the networks about their new and returning series. It's a schmooze fest, of course; the networks try to peddle their latest wares even as they remind you about the stuff that's still on the shelf…and, hallelujah, I'm finally a part of it! As such, I will be attending as many panels for as many television shows as I possibly can (believe me, that's a whole lot of panels) and blogging about it here (via Premium Hollywood) throughout the conference.
The proceedings will shape up as follows: first cable, then network. I'll spend four days (July 12-15) being bombarded with every cable network you can imagine, from HBO and Showtime to The Disney Channel and Nickelodeon, plus all the other usual suspects: E!, Game Show Network, Bravo, CNN and so forth. From there, it's on to the broadcast networks: NBC (July 16 & 17), CBS (July 18 & 19), The CW (July 20), Fox (July 22 & 23) and ABC (July 25 & 26).
In other words, it's gonna be a long, grueling two weeks.
1/24/2011
Bullz-Eye's TCA 2011 Winter Press Tour Wrap-Up: Kneel Before Oprah!
: The TCA Winter Press Tour is an event which never quite seems to live up to the TCA
Summer
Press Tour…but, then, that stands to reason, as the mid-season series rarely match the ones which hit the airwaves in the fall, right? Still, the experience never fails to be one which I enjoy, mostly because you never know what's going to be around the corner, and Day 1 really set the stage for that: during the course of 12 hours, I interviewed Betty White, Henry Rollins, and Bruce Jenner, and, thanks to National Geographic, I wore a giant snake around my neck. Not a bad way to begin things…
It felt like there was more star power on hand than usual for a winter tour…but, then, having Oprah in your midst kind of skewers your perceptions on that sort of thing. I suppose it's a testament to how many famous people I've met over the years, though, that one of the biggest reasons I look forward to the tour is not because of who I might interview but, rather, because I'll get the chance to hang out with the friends I've made within the TCA. All told, it was another great time, but, as ever, when it was over, I was more than ready to get back home to my family and share my memories with them…and with you, too, of course.
Well, let's get on with the reminiscing, shall we?
Oh, but one word of warning: if you followed my daily dispatches during the tour, then a couple of these stories will sound strikingly familiar, but please rest assured that the majority of the material has not been copied wholesale and is, in fact, 100% new. Swear to God.
Most entertaining panel by a broadcast network: "Made in Spain" (PBS)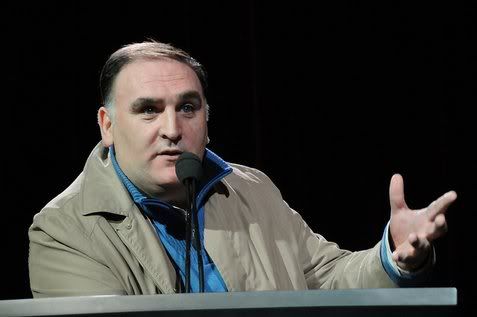 Not being a foodie, I wouldn't have known José Andrés prior to his kick-off of PBS's first day at the TCA tour if he'd been standing next to me…and, even then, I wouldn't have known that I was supposed to care who he was. After several minutes of clips from the first season of "Made in Spain," however, I was already in love with the series, and when Andres himself took the stage, it was impossible not to be charmed by him. He's a sweetheart of a guy for whom food truly is life, but he's also a hoot.
Most entertaining panel by a cable network: "An Idiot Abroad" (Science Channel)
I was seriously bummed when I heard that no one from "An Idiot Abroad" was going to be in attendance for the show's panel, but I figured, "Okay, at least they'll be there via satellite." In retrospect, there's no way they could've been funnier if they'd actually been onsite. Naturally, just being in Karl Pilkington's presence was enough to inspire Ricky Gervais and Steven Merchant to dissolve into a fit of giggles, but they were utterly warranted this go-round.
Here, see for yourself:
Most annoying panel: "Platinum Hit" (Bravo)
Between Kara DioGuardi handling a question about "American Idol" about as poorly as she possibly could have – read more about that here – and Jewel dropping names like they were hot potatoes ("I was talking to Steven Spielberg…"), I'm hard pressed to think of any panel that left a worse taste in my mouth.
Panel which had the least need for an audience: "The Best of Laugh-In" (PBS)
It wasn't entirely surprising that a panel consisting of Lily Tomlin, Jo Anne Worley, Ruth Buzzi, Gary Owens and George Schlatter would be able keep things moving along without any of the critics in attendance actually needing to ask a question, but they kept passing the conversational ball back and forth until someone in the crowd finally had to stand up and ask if it was okay to ask a question. Schlatter instantly shot back, "We're trying to talk here!" Laughter ensued, as did plenty of questions about the history of "Laugh-In." "Are you guys having fun?" Schlatter asked later. "Because we're having a ball!" Must be what keeps them looking so young: you'd never in a million years believe that Worley – that's her in the feathered boa, in case you hadn't guessed – is 73 years old.
Funniest panel that you probably had to be there to appreciate: "Community" (NBC)
The only person not in attendance was Chevy Chase, who was described as being "very under the weather,' but his co-stars more than made up for his absence. If I tried to tell you about it, though, you'd probably just stare blankly at me. Some of the funniness came from the giggling of the various panelists, some it involved one-liners which would require a lengthy amount of set-up for you to appreciate, some of it was totally visual, and…well, you get the idea. But it really was hilarious, I swear. The most easily-translatable moment is probably Donald Glover's story about how they had to teach Betty White the lyrics to Toto's "Africa" on the set. "I assumed she knew 'Africa,'" he said. "I was, like, 'Everybody knows that song!' But, like, that song was out when she was already old. She was already 50-something."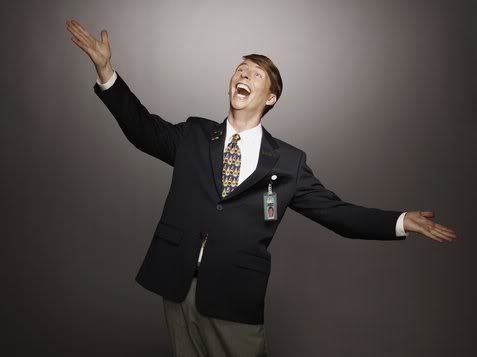 Greatest Moment of Complete Honesty During the Tour: When I approached Jack McBrayer ("30 Rock") to ask him a question, he agreed, but then he looked down at my recorder and said, "Oh, my! You're not going to record this, are you? I'd rather you didn't." At this point, he performed a perfect mock aside, holding a hand to his mouth and whispering, "I'm a little bit tipsy!" So I turned off my recorder. Kudos to you, Mr. McBrayer. Would that more actors had that blend of good humor and common sense.
Most common recurring question during the panels: "Who's the moral center of your show?"
I am at a loss to understand why this vaguely pretentious-sounding query suddenly became the must-ask of the tour, but I'm sure I heard it asked half a dozen times, maybe more.
Most promising new cable program that I didn't know much about before going into the tour: "Too Big to Fail" (HBO)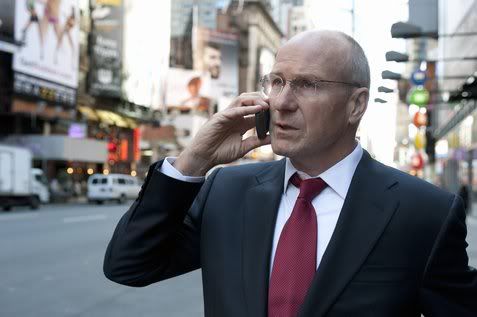 Even without knowing the subject matter of the film (it's about the whole Lehman Brothers financial saga of a few years ago), just seeing the list of cast members is enough to make the title seem apropos. Dig these names: William Hurt, Paul Giamatti, Topher Grace, Billy Crudup, James Woods, Bill Pullman, Matthew Modine, Tony Shaloub, Cynthia Nixon, Michael O'Keefe, Dan Hedaya, Kathy Baker, and Ed Asner as Warren Buffett. Seriously, how can this thing go wrong?
Least promising new broadcast network program that I didn't know anything about before going into the tour: "America's Next Great Restaurant" (NBC)
One of the critics asked, "Do you remember Rocco's DiSpirito's TV show, 'The Restaurant'?" I do not. And I won't remember to watch this one, either. Who cares?
My best opening salvo for an interview: telling Malcolm McDowell that I really loved his audio commentary for "Caligula."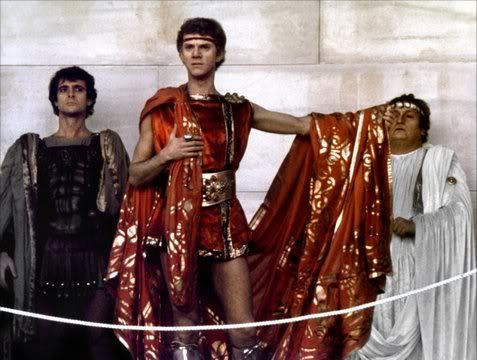 It could've backfired horribly on me, but given that it's one of my all-time favorite commentaries (and given how thoroughly amused he seems to be throughout the proceedings), I had to lead with this unique piece of praise. As it happens, his eyes lit up immediately as he informed me that he'd wanting for years to do a one-man show about his experiences working on the film, assuring me that he'd saved a few stories for just such an occasion.
Favorite moment during a one-on-one interview: Phil Morris channeling the spirit of Lord Buckley.
We were talking about the character of Jackie Chiles, which Morris played on "Seinfeld" and has recently revived for FunnyOrDie.com. Morris – now on TV One's "Love That Girl!" – was trying to explain how Jackie's delivery was what made the character funny, but while trying to come up with a name, he kept saying, "F. Lee…F. Lee…" F. Lee Bailey? "No, I mean, uh, Buckley." Before he could clarify that he meant William F. Buckley, I laughed and suggested that he might be referring to Lord Buckley. At this reference, Morris raised his eyebrows and launched into a perfect impression of the mustachioed hipster comedian, which just about knocked me backwards. "Come on now, how often do you get to break that out?" I asked. Morris burst out laughing and offered a fist bump, praising me for "digging deep," but I dare say the same praise could be lavished on him as well.
Favorite one-on-one interview overall: Tyler Labine, "Mad Love" (CBS)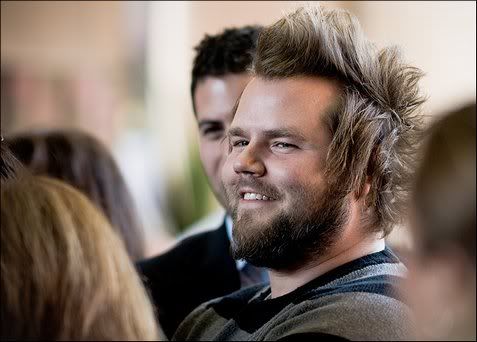 I've got to go with Mr. Labine on this one. I met him during my first TCA tour in 2007, back when he was pimping the premiere of "Reaper," and between Facebook, phoners, and further TCA events…well, I wouldn't be so presumptuous as to say we're friends, but we've definitely built a comfortable rapport when it comes to our conversations. As such, his first words involved apologizing for the fact that we couldn't kick back and drink scotch this time (that's what we did when he was promoting "Sons of Tucson" for Fox) because he had to be back on the set in a few hours. Still, he's a nice guy, he's got a nice beard, and, once again, we had a nice – if woefully alcohol-free – interview.
Most intimidating roundtable interview: Tommy Lee Jones, "The Sunset Limited" (HBO)
Everyone warned me. They said, "He's not a good interview, he hates doing press, and if you're not planning to bring your A-game, then you might as well not come at all." But, dammit, it's Tommy Lee Jones. How do you turn down the chance to sit in the presence of that guy? Better yet, I'd watched and really enjoyed his adaptation of Cormac McCarthy's play, "The Sunset Limited," which he'd directed for HBO and starred in as well, along with Samuel L. Jackson. Sure, I was intimidated, but I'd done my research, I had my questions, and I was ready to roll.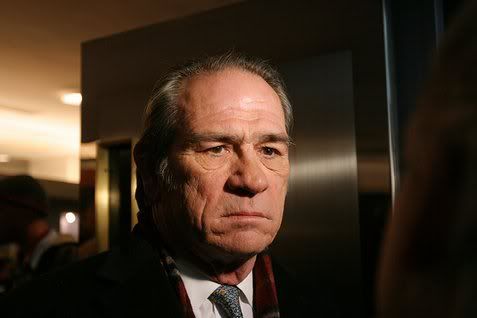 As it turns out, Mr. Jones was everything I'd been promised and more, but while I had gotten out without having any of my questions insulted or dismissed, my original perception of the experience was heavily colored by one of my fellow journalists being informed at one point, "You know, I've already said that. I've already answered that question." Listening back to the recording, though, I actually did better than I'd recalled: of the three writers who were there, I was the first to get a halfway decent answer out of him, and if I never really hit any out of the park, at least none of my questions resulted in a full-fledged swing and a miss. Still, if there's such a thing as a badge of courage for TV critics, I feel as though one should be sent my way post-haste.
Least successful one-on-one interview: Mike Tyson, "Taking on Tyson" (Animal Planet)
When he swaggered into the evening event which was held by the OWN Network but encompassed all members of the Discovery Channel family, I thought, "Okay, I work for a guys' website: I have to talk to Mike Tyson." I approached him and asked him a question revolving around how he's suddenly a media presence again, first with "The Hangover" and now with this new series. Before he could answer, one of his "handlers" ran up and said, "Hey, Mike, I found ya some food!" At this, Tyson grabbed himself something to eat and walked away, my question unanswered.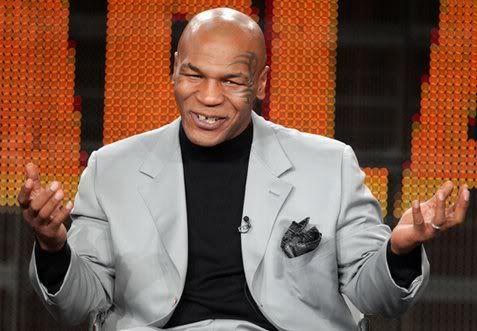 Later in the evening, it had become de rigueur to go up to Tyson and ask if he'd be willing to let you take your picture with him. I restrained myself at first, but then I finally decided, "Well, maybe I'll just try again with my question, then someone can take a picture of me while I'm talking to him." So I approached him once more and said, "Hey, Mike, can I ask you a quick question about the new show?" He glanced at me…and said, "Nah." No less than 10 seconds later, he was taking more photos with people. That's what I get for trying to work.
My 7 Favorite Cheap Thrills of the Tour:
1. Meeting the Fonz. Yeah, I know, Henry Winkler hasn't been the Fonz in decades, but he'll always be the Fonz to me. I'm thrilled for him, though, that the work offers are coming in fast and furious: he was at the tour as a cast member for both Adult Swim's "Childrens Hospital" and USA's "Royal Pains."
2. Breathing the same air as Oprah. I'm pretty sure this means I'll never get cancer!

3. Calling Elijah Wood on fucking up my shopping at Amoeba Music last tour. Wood was at the Fox party to promote his new FX series, "Wilfred," and when I found a chance to chat with him, I said, "First, I've got a photo I want to show you." I broke out my iPhone and showed him a shot I'd taken of him at the turntable at Amoeba. "Oh, yeah," he said, "I was DJ'ing that day!" "Yeah," I replied, "and you were also totally blocking the bargain bin. I only get there once, maybe twice a year, dude. That totally sucked." He laughed, but he still looked appropriate chagrined, and he apologized. Given how much of a music geek he is, I think he probably even meant it.
4. Interviewing Paris Hilton. What can I tell you? She's hot.
5. Successfully asking Jerry Rice a question about football, despite the fact that I don't know anything about football, let alone Jerry Rice. Let it never be said that I'm not up for a challenge.
6. Spending 20 minutes with Bruce Jenner talking about nothing but his acting gigs from the late '70s and early '80s. I don't keep up with the Kardashians and don't plan to start anytime soon, but I do enjoy the chance to ask people about projects that they haven't been given the chance to talk about in awhile. And that is why I have 20 minutes of anecdotes from Jenner about serving as a defacto replacement for Erik Estrada on "CHiPs" for several episodes, working with Harry Belafonte, LeVar Burton, and Dennis Haysbert on "Grambling's White Tiger," and, of course, all the dirt he cared to dish on the experience of working with Valerie Perrine and the Village People on "Can't Stop the Music." The only time his family's TV series came up was when one of his daughters called to tell him that they'd won the People's Choice Award for Guilty Pleasure…and it didn't even occur to me to ask which daughter!
7. Just being in the same room with Jeff Bridges. How could this not be on here? He's The Dude, for God's sake.
Most awesome visit to the set of a network show: "Parks & Recreation" (NBC)
I admit that it took me a little while to get past my general indifference to the first season of this show, but having devoured the Season 2 set and quickly moved on to the six episodes of Season 3 that were sent out to critics in advance of the tour, I was psyched when I heard that we'd be visiting the nerve center of the Pawnee government. I was bummed that Chris Pratt wasn't in attendance, but I was part of the group which was toured around the set by Adam Scott and Michael Schur and given up close looks at the offices of Lesley Knope and Ron Swanson, along with some of Pawnee's most (in)famous murals. Plus, I…well, at the moment, if I told you that I had my picture taken with Li'l Sebastian, it wouldn't mean anything to you, but I promise you that when the time comes for the episode revolving around the Harvest Festival, you'll be all, like, "He got his picture taken with Li'l Sebastian! Sweet! That dude is awesome!" Or, at least, that's what Tom Haverford would say, anyway.
Most awesome visit to the set of a basic cable show: "Conan," TBS
I guess "awesome" might be overdoing it a bit, but I'm a big Conan fan, so it was just cool to be able to check out the set. Unsurprisingly, Conan himself – flanked by longtime pal and producer Jeff Ross – had lots of funny stuff to say, much of it self-deprecating. But, then, I wouldn't have wanted it any other way.
Best piece of swag: If you were to ask my daughter, it'd probably be the game of Jenga that was offered up during Fox's "Raising Hope" breakfast, which, although she'd never played it before I brought it home, has taken to it like a duck to water. Frankly, I thought she'd like the Mickey Mouse ears with her name embroidered on it more. Just goes to show that fathers don't know the first thing about their daughters. For my part, it would've been the Greendale Community College shirt, except that it was a large rather than the XXL that I'd need to ever wear it in public. (Note to network publicity departments: given that you're dealing with a group of individuals who spend the majority of their day sitting in front of their television sets, it wouldn't be the craziest idea in the world to upgrade the sizes you send out. I've been a member of the TCA since 2007, and I think I've been able to fit into maybe two of the 50+ promotional shirts I've gotten in that time. On the other hand, my daughter has a lot of really awesome nightshirts.) In the end, though, I've got to go with the bloody bathmat left in front of the tub for us by Fearnet. Thank God I was given advance warning that it was waiting in the room for me…
Best off-site visit that wasn't connected to the tour: to The Vanguard for the taping of two episodes of "The Green Room with Paul Provenza."
At the end of 2010, I pulled together a piece which featured my favorite quotes of the year. After doing so, I sent the link to all of my interview subjects who were on Facebook, thanking them for being a part of the piece and wishing us both the best in 2011. Paul Provenza immediately wrote back, saying, "Thank you! Let's do other stuff." A few days later, I received an invite to attend tapings for the second season of his Showtime series, and since the dates happened to be in the heart of the TCA tour, I took him up on his kind offer, bringing my friends Christine Becknell and Eric Field with me.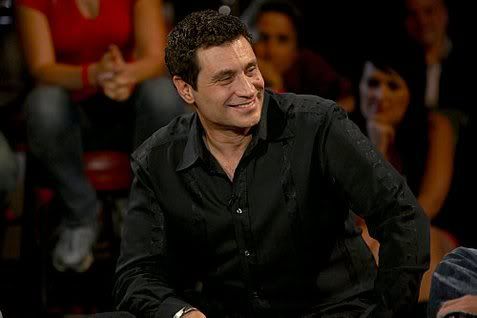 What an incredible evening: free food, an open bar (I don't mind telling you that the Newcastle was going down smoooooooth), and some seriously funny people, including Lewis Black, Ron White, Kathleen Madigan, Jamie Kilstein, Richard Lewis, Margaret Cho, Jeffrey Ross, and Kumail Nanjiani. Other comedians, including Rick Overton, Doug Stanhope, and David Feldman, were in the house, as were Sugar Ray Leonard and Ron Jeremy.
I think my personal favorite one-liner came when Ron White denied being an alcoholic, explaining, "I only drink when I work," then adding, "But I am a workaholic." What I'll inevitably remember most, though. All in all, though, it's hard to top Ron Jeremy repeatedly falling asleep during the taping of the second episode. Like that wouldn't be embarrassing enough, but the poor bastard did it directly in front of Jeffrey Ross, who ripped him to shreds every time he caught him. ("Hey, look, Ron Jeremy must have an erection! He's passed out from all of the blood rushing to his cock!") Good times, to be sure.
Most awesome live performance of the tour: David Foster, promoting "Great Performances: Hitman Returns – David Foster and Friends" for PBS.
PBS really did right by us on this tour. For the first of their two evening events, they provided us with a performance from Harry Connick, Jr., who blew the roof off the joint in suitably jazzy fashion. Ultimately, though, he couldn't hold a candle to David Foster, who opened with the love theme from "St. Elmo's Fire," followed with a medley of his biggest hits, along with clarification as to which of his ex-wives owned the rights to them, and then brought out a couple of friends to join in the fun. Although Charice – you may recall her from her appearance on "Glee" – knocked Eric Carmen's "All By Myself" out of the park, she still couldn't defeat Donna Summer, who minutes earlier had turned the Langham into a discotheque with a breathtaking rendition of one of her signature songs, "Last Dance." Damn, that woman's still got some pipes!
Best party: Fox
It's so weird: during the summer, it feels like Fox goes out of their way to put us in the loudest, most distracting environment possible (the amusement park on the Santa Monica pier), thereby making it almost impossible to conduct decent interviews. This is the second winter tour, however, where they've rented out Villa Sorriso for their evening function. Why can't they do that in the summer, too? Sure, it's crowded, but it's a hell of a lot more conducive to conversation. Plus, they're not afraid to offer up 12-year-old Macallan's, which, as it turns out, is pretty damned conducive to conversation, too.
Most pleasantly surprising party: Hallmark Channel
I know the cool kids can't in good conscience admit to watching either the Hallmark Channel or its sister movie network, but I don't mind telling you that they know how to throw a classy party. It was a sit-down affair – the only one of the tour – where the food was delicious and the wine only stopped flowing when we walked out the door, at which point we were handed a bottle of Brut champagne as a parting gift!
Worst party: ABC / CBS (tie)
I understand that the networks don't feel the need to go quite as all-out with their winter tour functions as they do during the summer, but the ABC and CBS network families took cost-cutting to a depressing low. Okay, I understand why ABC would only offer up talent from their mid-season shows, but given that most TCA members only get out to the west coast twice a year, it was depressing not to have the chance to interview cast members from their other series. Meanwhile, CBS didn't even have a party. Well, not really, anyway. Instead, it was all, like, "Oh, hey, we sent home everybody who was here to promote their new CBS and Showtime series, but here are the people who were just onstage for the panels for The CW, so stand in the lobby and ask them questions!" Yeah, but…they were just onstage. Oh, well, at least it gave me the chance to have a pleasant conversation with Sara Rue, right?
Oh, wait, I forgot…
Most annoying moment of the tour: having Sara Rue's personal publicist start tapping her watch at about 90 seconds into my attempt to interview her client.
I love Sara Rue. I think she's as cute as can be, I've thought so ever since she was starring in ABC's "Less Than Perfect," and her guest appearances on three different CBS comedies ("Two and a Half Men," "The Big Bang Theory," and "Rules of Engagement") have only cemented my appreciation of her work as a comedic actress. As such, you can understand why I gravitated toward her during The CW's post-panel cocktail party in an attempt to grab a brief one-on-one interview with her about her new gig as the host of "Shedding for the Wedding." The good news: Ms. Rue herself was as sweet as could be. In fact, from what I can tell, her only real fault would seem to be her taste in personal publicists.
The publicist was standing outside of Rue's line of vision when the tapfest began. Frankly, since I was focused on my interview subject, I only half-realized what I was seeing at first. In fact, I pretty much convinced myself that it couldn't have been what I was seeing, and I kept right on with another question. About 30 seconds later, however, the tapping resumed, this time more furiously and now accompanied by a look which hovered between annoyance and anger. Having little choice in the matter, I wrapped the interview and thanked Rue, who seemed to have enjoyed our short time together, but my plans to do a full-length piece offering a look at "Shedding for the Wedding" as well as an exploration of Rue's earlier career had been shot all to hell.
What happened? Best guess: the publicist didn't know me, wasn't familiar with Bullz-Eye, and only gave me the time she did because she was in a room filled with CW executives and couldn't get away with refusing me altogether. Next TCA tour, though, I'm thinking about wearing a t-shirt to all press events which reads, "Just because you don't know me doesn't mean I suck."
Okay, last time I ended on my most annoying moment of the tour, and it felt woefully anticlimactic, so this time I'm going to end with a few laughs and offer up…
The Top 11 Quotes from the TCA Tour (one for each day of the tour):
1. "I got a little bit nervous when they told me that I had to be speaking in front of TV critics. I knew I was coming here to share time at PBS, but all of a sudden it's, like, 'The room is going to be full of TV critics.' Great: all my life dealing with food critics one by one, and now I'm going to have to be dealing with an entire room of TV critics…?" – Jose Andres, "Made in Spain" (PBS)
2. "What is this Betty White business? This is silly. Really, it is very silly. You've had such an overdose of me lately. Trust me. I think I'm going to go away for a while. It's hard for me to say no to a job because you spend your career thinking if you say no, they'll never ask you again, and if you don't take the job, you know, that may be the end of it, but my mother taught me to say no when I was a girl, but that wasn't about show business. So the result is I'm trying to cut down. I really am." – Betty White, "Hot in Cleveland" (TV Land)
3. "Betty White is in the building. Did you hear that? I hope I get to touch her. I just had cataracts, and I'm still adjusting, but what I see is looking pretty good." – Ed Asner, "Working Class" (CMT)
4. "The one note we did get (for 'Children's Hospital'), it was from Warner Brothers…I hesitate to even tell you this, but when we turned in our first script for the web series, Warner Brothers called us up and said, 'Um, do you think you could cut the shot where we actually see the Twin Towers burning?' And we were like, 'Yeah, do you know what? That's a great note.'" – Rob Corddry, "Children's Hospital" (Adult Swim)
5. "My opinion don't mean nothing. I'm here to talk about pigeons and stuff. Anything other than that, I'm a schmuck." – Mike Tyson, "Taking on Tyson" (Animal Planet)
6. "If Oprah would have asked me to ride a unicycle naked and backwards at night, I would have asked her, 'Where do I sign up?' It's Oprah." – Mark Burnett, Your OWN Show (OWN)
7. "I wanted to be a substitute for Joan Lunden. And the agent at the time told me there weren't going to be any more black people on network television. He said, 'They've already got Bryant Gumbel.' And I said, 'But that's another channel.' And he said, 'No, no. They've already got Bryant Gumbel. That's not going to happen.'" – Oprah Winfrey, Owner of OWN
8. "I think the expectation that women be attractive as well as funny has just always been there. We even need attractive news anchors who are telling us about death and destruction and they still need to be pretty. I don't know why it is. Some sociobiological level. We need to look at females and think, 'I would hit that.' I think that the gentlemen may need it." – Julie Bowen, "Modern Family" (ABC)
9. Q: Are you going to have to put Steve on a five second delay on ('American Idol')?
Steven Tyler: Fuck, no. (Pauses) I question whether I should have done that just now.
10. "'The Good Wife' was always meant ironically. I think it's actually very descriptive. I think the comment I made was it would have been nice to be ironic and call it 'The Sexy Wife' or 'The Sexy Wife Whose Husband Goes Down On Her' or something like that. That might have brought in more people." – Robert King, "The Good Wife" (CBS)
11. "Do you guys ask questions for a profession? You're pretty good. You don't look like much as a group, but…good questions." – Steve Young, "Year of the Quarterback" (ESPN)
1/20/2011
A Chat with Rizwan Manji, Parvesh Cheena, and Anisha Nagarajan ("Outsourced")
:
Although I mentioned in the intro to my chat with Ben Rappaport that my encounter with him at the 2011 Winter TCA Tour was the first time I'd ever spoken with him, it was
not the first time I'd talked to a cast member of "Outsourced." I had the pleasure of speaking with Rizwan Manji and Parvesh Cheena back in August at the summer TCA tour, and having enjoyed watching the ensemble of the show really come together since then, I took advantage of the opportunity to talk to them again. It was an added bonus, however, that the lovely Anisha Nagarajan, who plays Madhuri on the series (and who I'd not met previously), happened to walk up while we were chatting. All three were jazzed about the way "Outsourced" has been coming along and, perhaps more surprisingly, are actually kind of excited about their new 10:30 PM timeslot, which takes effect tonight.

One housekeeping note: there are a couple of questions within the piece which were asked by my TCA compatriot Bill Brioux, who has a great and appropriately-titled site called TV Feeds My Family. Poor Bill was forced to battle his way through the last half of the tour with an excruciating case of laryngitis, and he asked if – in lieu of trying to croak out all of his questions – he could piggyback on a couple of my interviews, so if you should happen to be one of the few people who reads both of us, let me assure you that any crossover between our pieces on "Outsourced" is totally authorized.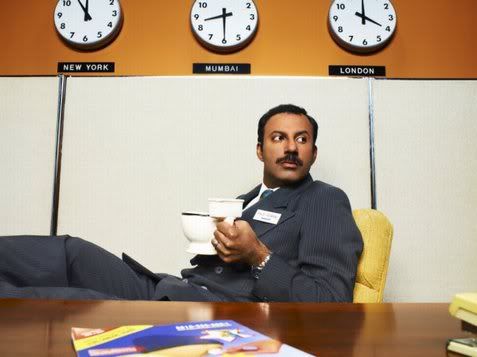 Bullz-Eye: You and I first met back in the summer, for the initial "Outsourced" panel. Are you nervous about being back amongst the critics?
Rizwan Manji: (Laughs) You know what? We're very excited to be back. We're glad that we're still here and that we're doing so well, so we're very happy about that. Yeah, I think we're a little bit more relaxed than we were in August. We were very nervous about what we were going to be asked, and we hadn't done it before. Now, we're sort of…we've gone to a bunch of different events now, so we're a little bit calmer than we were in August.
BE: Plus, you guys are a hit now.
RM: Yes! We're very excited about that!
BE: I liked the show from the get-go, actually. I used to work in a call center, so I had a natural affinity to the concept.
RM: So you're the real Todd, I guess? (Laughs)
BE: Well, I did my best. In fact, I just spoke with your onscreen nemesis a few minutes ago.
RM: You did…? (Cuts eyes suspiciously around the room, then laughs)
BE: You guys really have some great chemistry together, a hero/villain dynamic or whatever you want to call it.
RM: Oh, thank you! Yeah, me and Ben, we have a tremendous time. We actually even live really close by each other, so we actually even see each other on the weekends. My daughter loves him, and whenever she sees him on TV, she's always, like, "More Ben! More Ben!" (Laughs) She's two, and that's what she can come up with. You know, it's…I'm so thankful that, as you said, the chemistry worked out, because we never auditioned together. It was one of those things where I found out really late in the game, because, as I think I might've mentioned to you in the summer, I auditioned for a different part. So when we actually met was the first time we were reading it for the network, and we were, like, "Oh, my God, this works!" So it could've gone horribly wrong, or it could've been this, and I'm so happy that we have a little bit of chemistry.
BE: Is it fun getting to play slimy? And I mean that in the best possible way, of course.
RM: (Laughs) You know, it's so cathartic, I guess, because I get to say the meanest things. My wife always says, "Don't bring that home with you!" Sometimes I get home and I'm using words that I've used on the set. But it's a lot of fun. Rajiv gets to say the craziest things.
BE: Speaking of crazy things, all of us critics got a lovely Halloween gift from the show: our very own remote-controlled tarantula, a la the one Rajiv destroyed on the show. Were you fortunate enough to get your own? Because my daughter loves ours.
RM: I was not! Actually, we only had six of them on set, and they said, "If we ruin all six of them, the shot is done." Luckily, we got it on the last take, because I had actually demolished all six of them by the end of that thing. So, no, I did not get one to take home…but now that I know you got one, I'm going to ask for one! (Laughs) I was actually out in Phoenix yesterday doing a press event, and they were giving out my favorite novelty, the toilet-bowl mug. That was great. The novelties are becoming characters on their own!
BE: Now that you've been working together for a few months now, who's the easiest to make laugh and who's the hardest?
RM: The easiest, I would probably say, are Ben and Anisha…Todd and Madhuri. They're the easiest to break up. The one who pulls the most pranks is Parvesh, who plays Gupta. Definitely. He's constantly doing crazy things to us on and off the set. There's a video floating around where he's taking a close-up video of the inside of my nose. So, yeah, he does crazy things like that.
BE: Where does Diedrich Bader fall in the ranks?
RM: Diedrich, he's a prankster, but you'd be surprised: he's very professional on set. He does lighten up at some points, and he's so funny when you see him on TV, but he's actually very, very professional. A joy to work with, but very professional.
BE: They showed us a little clip today of the upcoming Bollywood sequence.
RM: By far my favorite episode, and I'm so glad it's on January 20th, when we move to 10:30 PM. You saw the little clip of the dancing, but you don't actually hear the singing. Three of us sing, but only one of us can actually sing, so…
(At this point, Parvesh Cheena strolls up and joins the conversation.)
RM: I was just talking about you. We're talking about how awful you are in the next episode.
Parvesh Cheena: Oh, shut up! You Canadians… (Referring to Manji, who is from Toronto, ON) …don't know hell.
RM: (Laughs) So, yeah, there's the Bollywood dance sequence, and then there's the singing, so…
PC: Riz sings, too, by the way.
RM: I won't tell you if I'm one of the good ones or not. I might be the terrible one.
PC: Let's just say it's a song by an '80s pop icon who's seen better days since leaving her husband, Bobby.
RM: Rajiv clearly is a fan of '80s music.
PC: (Laughs) And you know that you sing in this episode (we're getting ready to film), too?
RM: Yeah, there's an episode that we're about to shoot, and…I don't know how much I can say!
PC: You can't say anything. But I can! You sing…
RM: (Interrupts) I won't tell you why, but I actually sing another song.
PC: From the '70s.
RM: It's great.
Bill Brioux: Was there extra rehearsal involved for the Bollywood episode?
PC: Yes! We were, like, "Glee" meets "The Sing-Off." (Laughs) Seriously! We had to lay down tracks…and I think I now have the street cred where I say can "lay down tracks"…Anisha and I and Ben. We had choreography. The choreographer, Fred Tallaksen, is one of Madonna's choreographers from two tours, and I'm glad I didn't learn that until the last day. Otherwise, I would've freaked out. I just thought, like, "Okay, I'll do it. I'm sweating, but I'll do it." And then we had to film the rest of the episode, too, so we'd be filming something, table read, going to the music studio to record, coming back for dance rehearsal in this dungeon basement at CBS Radford, and then coming back to film.
RM: And the director of that episode (John Scott) has directed episodes of "Glee," so it really just looks amazing. It's the perfect episode to inaugurate that 10:30 timeslot.
PC: It really is. We're really glad that they have that episode as the first one back, as a push. And to show that Anisha, who's our quiet one, has a Broadway baby voice…? It's a blessing.
BB: Can you speak to what the key Bollywood moves are?
PC: A lot of hips, and every so often a turn. That's all you need to do! Hip, hip, turn. Sometimes some arms, but I wanted to keep it to the lower body for you guys.
RM: I feel like one day Rajiv needs to do some Bollywood dancing. (Laughs)
PC: You've got some moves.
RM: I feel like Rajiv would be awesome!
BE: So you've obviously got a great episode to kick off your new location, but are you guys excited or feeling tentative about the new 10:30 timeslot?
PC: No, I love it. The fact that we got to follow "The Office" before, and now we're following "30 Rock"…? We can't lose.
RM: And I think it's one of those things where, because the entire night is this event now, a 3-hour comedy block, and there's a lot of publicity for the three hours of comedy on NBC, there's a lot of buzz about it. At the 9:30 timeslot, we had built our fanbase, and people are really obsessed with the show and love it, so I feel like they're going to move with us to 10:30. I think our crowd is…
PC: Our fans have been really loyal and supportive, and…where have we gone? We've gone to New York together, and I went back to Chicago, where I'm from, and it's just been awesome the amount of people who're watching. Kids, even. Parents. And that's from every ethnic group, let alone the Indian community. We've been so grateful to everyone.
BE: So when you guys became a hit, who was the first person to yell, "Suck it, critics"?
PC: Rizwan!
RM: (Lowers head) Oh, my God…
PC: But only because Rizwan says "suck it" a lot, generally. I'm just thinking, like, "It must be him." He's said to everyone at one time or another. (Laughs) But, no, we understand what purpose a pilot serves. It's an introduction. And we were, fairly or not, under the microscope a lot more because we are the first show with a predominantly South Asian cast in America.
RM: And to the critics' credit, there were several articles written after about the fifth or sixth episode…after the Bolloween episode, I believe…where they were saying, like, "You know what? I'm really sorry that I said all this, because I've changed my tune, and I just think it's not everything I thought it was based on the clips that I was seeing at the previous TCA tour." So to their credit, some of them took it back. And you know what? There are still some people harping about the stereotypes and all that stuff, but I feel like we've addressed that. And we're so not that show.
PC: No one ever makes a problem out of, "Oh, that show about the lower income white family living in the trailer." It's a stereotype…or, rather, an archetype…and…
(At this moment, Anisha Nagarajan suddenly pops her head in between Manji and Cheena.)
PC: And here's our Bollywood baby right now! Anisha, come talk to the fine gentleman!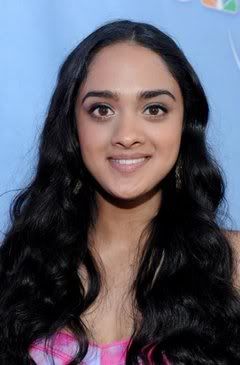 Anisha Nagarajan: Hello!
PC: We were just talking about how…he asked the question, "Who was the first person to say 'suck it' to the critics?" And I said it was you.
AN: (Horrified) It was…?
PC: No, no, it wasn't.
RM: I don't think he believes it, anyway.
BE: I don't think anyone could believe that.
PC: She's too nice! I felt bad even saying that. I just imagined her starting to cry. (Laughs)
BE: So tell me about your part in the Bollywood episode.
PC: She's my back-up dancer.
AN: (Laughs) I start out that way. But then I kind of find my voice in the episode. Let's just say that.
BE: Was it nice to finally get the chance to use it?
AN: Yes! (Laughs) That's for sure!
PC: And it's an amazing voice that we're glad we get to share with everyone, too.
AN: And his voice is really great in the episode, too. He sings an amazing song that you'll see.
PC: We do pimp Anisha out wherever we go to sing, so now that it's actually going to be on national television, it makes us all so happy that she's not in "Spider-Man: Turn Off the Dark." We keep her safe. That was her back-up! If she'd done "Spider-Man," she wouldn't be here with us. She'd be on Broadway, soaring over people's heads.
BE: Or in the hospital!
PC: (Mock horror) No, Anisha! I will keep you safe!
AN: (Laughs) I saw the show when I was in New York over the winter holidays, and it looks like it's really…as my mom said, it looks like it's finding its eight legs.
PC: It just got pushed again, though. To a March opening.
AN: Yeah, I saw that. But what I saw of it, they had no faux pas, no malfunctions. It was really well done.
PC: And Glenn Beck thought it was really good, too.
AN: I saw that!
RM: Well, if Glenn Beck liked it, let's all rush out and see it! (Laughs)
PC: Rizwan is a big Fox News fan.
RM: Well, Rajiv is, anyway! (Laughs)
BE: What were you going to be doing in "Spider-Man"?
AC: Well, I actually did all the workshops, and the part I was playing in the workshops was the villainess part, Arachnae. But that was in the workshops. I was actually cast as an understudy for the featured ensemble of the show. Given the circumstances, though, I don't know if that would've actually happened, or if I would've played the part, or what is going on, but…
PC: All right, she's being very modest, but I'm going to say it: she was called by them about her availability to maybe come back in the show. So she's being very modest and humble.
RM: Yeah, it's a lot bigger part than she's letting on.
PC: And I'll also let you in on some news: Riz and I are in talks to play Doctor Octopus and The Lizard. Yes, we are a three-for-one package. I will be playing Doctor Octopus, because I'm very handsy, and Riz will be playing The Lizard because he's just slimy.
RM: Oh, man!
PC: Sorry, I meant "reptilian."
RM: I like that better.
BE: You'd think I hadn't already called you "slimy" earlier in the interview.
PC: (Bursts out laughing)
RM: I can take it!
BE: So are you guys happy with the way the show is evolving?
PC: Yes.
AC: Yes!
RM: Absolutely!
PC: We get creative input, we get to improvise, we get to play…we pitch ideas. I don't know if you know this, but there's one scene where, like, Rizwan slapped me twice…? We just pitched it, like, "If Rizwan got on a power trip, this is what he'd do."
AC: At this point, I think you've been slapped by every character in the show…including me!
PC: I think I have. Now, this slap didn't make it.
RM: They cut it from the show. They said it was a little…
PC: Too sick for the holidays. But I do know that the working title for one of the upcoming episodes is "The Slap."
RM: It is not!
PC: I think it is!
RM: I just enjoyed it because for seven takes I got to slap him really hard in the face. So I didn't even care that it didn't make the final cut. I just got to slap you…
PC: It was a stage slap.
RM: Let's just do it.
(Rizwan slaps Parv hard enough that it is very much audible on the recording.)
PC: Ow!
BE: Did that hurt?
PC: No. (Bursts into mock sobbing)
RM: (Starts laughing)
PC: That's stage training for you.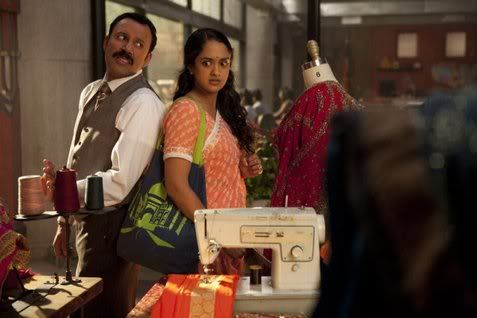 BE: I'm going to start wrapping up here, but, Parv, I mentioned to Rizwan that I used to work in a call center, which is why I had a natural affinity to the show right off the bat.
PC: You know, I was a box office ticket agent, and we'd have to cold-call our subscribers…like, people who are paying high-end Chicago Shakespeare theater subscriptions…and ask, "Could you give $10?" "NO! How dare you call me?" I'm, like, "Ma'am, the upstairs studio is named after you. I thought maybe we could hit you up for ten bucks!"
BE: Lastly, for all of you, where would you like to see "Outsourced" go in the future, either for your character or just in general?
PC: I really have been pleased with how we've been leaving the call center for a lot of episodes. One of our upcoming ones is a full-on train. We built a whole train station and a moving train, and we employed 250 background artists. I love seeing that. I love seeing more of where we go to, like, Riz's home, and the personal relationships, too. And Madhuri…
AC: Madhuri may or may not have a special twist during the Valentine's Day episode. (Laughs) So stay tuned!
PC: It's very exciting!
RM: Yeah, I think my favorite part about what's developing in the show is you finding out the background of the call center workers and…just scenes that are not at the call center but, as he said, at people's houses, or just meeting different characters that are relationships, like her grandmother and (to Parv) your mom and my fiancée. These are people who we're going to meet.
PC: I forgot!
RM: What?
PC: I completely forgot about the episode with my mom! (Laughs)
BE: I've kind of likened the evolution of "Outsourced" to that of "Cougar Town," in that it started with a simple-to-summarize concept but soon expanded beyond that as we learn more about the characters in the ensemble.
RM: Yes!
PC: I agree. That's a very good analogy.
1/20/2011
A Chat with Ben Rappaport ("Outsourced")
:
The last time I was out at the TCA tour, I talked to Lucas Neff, the star of Fox's "Raising Hope," and I was surprised to find that he was fronting a prime-time comedy when his only prior TV experience involved a couple of scenes in A&E's "The Beast." Little did I realize at the time that Ben Rappaport, the star of NBC's "Outsourced," was coming in with even less of a television background. I mean, literally, it's "Outsourced," and that's
it.
When I was in Pasadena earlier this month, I managed to meet and chat with Rappaport for a few minutes about the way his series has been coming along and found out his feelings on the change in the show's timeslot. Fortunately, it sounds like tonight's 10:30 PM debut is the perfect way to show newcomers to "Outsourced" just how far it's come since its debut.
Bullz-Eye: I was actually a fan of the show as soon as I heard about the concept: I used to work in a call center myself.
Ben Rappaport: (Laughs) That's so great!
BE: Did you have any call center experience yourself?
BR: I did not! My aunt works in a call center, but that's it. I knew nothing about them…aside from, y'know, occasionally contacting one. (Laughs) But, you know, I didn't know what was behind them, what was on the other end of that phone. It's an office, and they have their own office politics and culture there.
BE: When the pilot came out, I know a lot of people kind of bashed it, but how do you think the show has evolved since then?
BR: I think it's evolved big time! I mean, you know, the term "outsourced" was a way for us to get to India, and now I think everybody's gotten to know our characters and the relationships and the dynamics. It's stories about what's happening between these characters. It's not political. There's no agenda there. It's not sarcastic in any way. We're just telling a story of people in India.
BE: I was impressed with the direction that it took as far as your romantic storyline. I didn't expect you to hook up with either of your potential romantic interests quite as quickly as you did.
BR: (Laughs) It was kind of quick, wasn't it?
BE: Yeah. It's not bad. It was just surprising.
BR: Yeah, but while it was quick, I think there's still lots of places to go with it. I mean, I think part of the story might be that it was too quick.
BE: I considered that. Just how long-term is the relationship going to be if they're willing to jump into the physical side of it that quickly?

BR: (Grins) My point exactly! So we'll see. We have a long way to go, in terms of fleshing out that whole situation.
BE: Were you surprised that it became so popular right out of the box? I mean, granted, it's a premise that I could see viewers embracing despite the critics not really loving it…
BR: I think so, too. I wasn't necessarily surprised that people embraced it, because I really believed in it when I signed on. I mean, when I read the script, I just laughed out loud. Like, just true gut laughter. There's a lot of time where it's polite laughter, but it's just true, honest laughter. And I think it's…you know, we're in a place now where we're able to watch a TV show that takes place in a different country, about a completely different culture, and still accept it into our homes every week and relate to it.
BE: It's nice that your character is still able to have interaction with people in the States through the wonder of Skype…or some equivalent thereof. Are those weird scenes to play?
BR: The Skype scenes? Those are funny, because we're just doing it to a blank screen, and then they superimpose it. But what's great about it is that we have very generous actors on our show, so usually the actor will be in the room with you, reading the other text so that you're not having to pretend to hear them or something. It makes it a lot easier.
BE: How is the camaraderie between the cast?
BR: It's fantastic.
BE: It seemed pretty solid from the pilot.
BR: It was, and since then it's grown even more. I mean, we're family. It's like going to summer camp every single day when you're going to work. (Laughs) I wish I were joking, but I'm not! We hang out together outside of work, and we live close by to each other. I know a lot of casts that don't quite bond like we do, but the way I feel is that if we're having fun, then the audience will have fun watching us have fun.
BE: Can you speak to a little bit on how the rest of the season is going to go?
BR: Well, you know, they don't… (Hesitates) I can tell you a couple of episodes that are coming up. Our first episode coming back next week, it's January 20th and it's at 10:30 PM, which is our new timeslot, after "30 Rock" now on Thursdays. That one starts off with a big Bollywood dance number.
BE: Yeah, actually, they showed us a clip of that today between sessions.
BR: Yeah, there's a little clip that they just released on the internet today, and there's a lot of stuff going on there. I get to play guitar, Anisha (Nagarajan) gets to sing, you see Parv (Cheena) dance…it's a big way to start, so I'm really excited about that.
BE: I'm impressed that you guys waited this long to actually try something Bollywood-esque. I presume that was a conscious decision not to dive headlong into it.
BR: Oh, yeah. Why throw it all out there at the beginning? Might as well draw it all out and save the best for last.
BE: Are there any guest stars upcoming that you're aware of?
BR: Not that I'm aware of, no. They don't really tell us that kind of stuff as of yet.
BE: You brought up the new timeslot. How do you guys feel about that? A little skittish, I'd guess.
BR: Well, you know, it's not really…I don't think it's that bad. I mean, we used to follow "The Office," and now we follow "30 Rock." And "30 Rock" is on par with "The Office" in terms of the quality and the people who watch it. It was an honor to follow "The Office," and it's an honor to follow "30 Rock," so we're happy. And I think this three-hour comedy block is really cool, and I think it's a unique…you know, people haven't tried comedy in this hour for, like, what, 15 years or something like that? And I think our show is the show to pioneer or experiment with that, because our show is such a new idea, and that timeslot is such a new idea. Hopefully, it'll work out.
1/16/2011
Winter 2011 TCA Press Tour: Day 11 – or – The Day The Tour Ended
: As I start this write-up of the final day of the Winter 2011 TCA Press Tour, it actually still
is
the final day of the Winter 2011 TCA Press Tour. Normally, I don't start these things until the next day, after everything that's going to happen has happened, but the last panel of the tour wrapped at around 2 PM PST, so as far as I'm concerned, I'm officially off-duty. The only thing left for me to do is pack my bags, grab some food, have a few drinks with friends, and catch my shuttle to LAX…and, yet, I thought about it and decided, "Since I've actually got the time to do it, maybe I should go ahead and write up the last few panels before I ever leave Pasadena."
Makes sense, right? That way, there'll be nothing hanging over my head to finish when I get home, and I can enjoy at least a day or two of much-needed downtime.
Unfortunately, none of the transcripts are online yet, so you won't be getting any exact quotes unless the fine folks in the transcription department manage to get them knocked out between now and 2:00 AM (that's when I have to head down to the lobby), so you'll just have to make do with a few random recollections for now, and I'll play catch-up when I'm home, rested, and ready to write again.
Even before John Landgraf took the time to do a teleconference with TV critics to explain why FX had to cancel "Terriers," I've thought he was one of the nicest and most approachable network presidents. Mind you, I blame this really just on one experience with him, when he made good on a promise to reveal the producer who was working on a rewrite of FX's "Powers" pilot (Kevin Falls, who may or may not still be involved at this point), but the "Terriers" move was a classy one that just helped to underline how I already felt. He sounds hopeful that "Lights Out" won't follow the same path in the ratings as "Terriers," and, boy, so do I. I've seen the first five episodes of the show already, and I'm loving it.
Next up was Louis CK, who couldn't have sounded more grateful about the way the critics have embraced his series…but, then, he was probably already beaming from the praise that had just been heaped on him by Landgraf in his introduction. We didn't really get much of an idea what to expect from Season 2, which stands to reason, since he hasn't even started production yet. The funniest moment came when FX exec John Solsberg invited all of the critics in the audience to visit the set, something which clearly hadn't been mention to Louie, who shot him a tremendous "what the fuck?" look.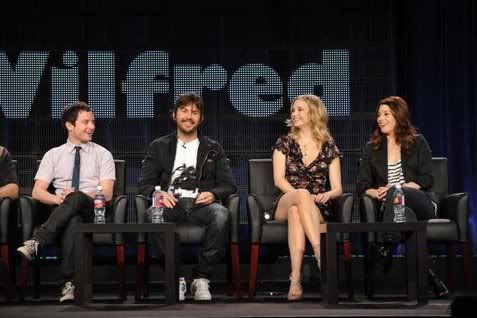 Even after talking to Elijah Wood at the Fox party the other night, I still couldn't quite wrap my head around what to expect from his new sitcom, "Wilfred," about a man who, when he looks at his neighbor's dog, sees a man in a dog suit who talks in an Australian accent. (It's based on an Australian series, with the same actor – Jason Gann – playing the dog in both.) Having now seen the pilot, though, I was rather surprised to find myself laughing a lot. It's absolutely as ridiculous as it sounds, but Gann is hysterical, so I'm now curious to see if it's going to be more than just a one-off. Of the panel, I really just have one immediate observation: Fiona Gubelmann is cute as a button and has legs that go on for miles.
The last of FX's panels was for "Justified," but even with a huge panel, I couldn't help but notice one face missing: Elmore Leonard, the author responsible for creating the character of Marshall Raylan Givens. As it turns out, he's been so inspired by the show that he's now in the middle of writing a brand new novel entitled…you guessed it…Raylan. In his absence, though, Leonard offered a statement in which he raved about the show, particularly the performance of Timothy Olyphant as Raylan Givens. Funnily enough, though, Olyphant wasn't asked a question until well into the proceedings, a fact which he noted with mock indignation. ("It's like they got together and said, 'Hey, nobody ask Walt (Goggins) or Tim a question. Fuck those guys. Fuck those guys. Nobody say anything to them.'") I really need to finish catching up on this show before Season 2 kicks off, because I love all that I've seen thus far.
After FX's panel, the network provided us with a free lunch, along with the opportunity to chat with several stars of the shows. I had ridiculously bad timing whenever it came to trying to grab members of the "Wilfred" cast for interviews, but I was pleasantly surprised to see Holt McCallany, who plays Patrick "Lights" Leary on "Lights Out." Fantastic guy, and we had a really nice conversation about the show and how his character develops over the course of the episodes I've seen thus far. He swears the best is yet to come.
Okay, kids, I'm tired of waiting for the transcripts to come in, so I'm…
Dammit! That's what I get for checking: they all just came in at once. Okay, fine, I'll offer up a few quotes to close up my coverage. I hope you've enjoyed getting my perceptions of this strange event known as the TCA Press Tour. Stay tuned for my final wrap-up sometime soon…and look for further adventures during the 2011 Summer TCA Press Tour!
"What I felt about 'Terriers' was that the audience that was watching it, which included many of you and hundreds of thousands, actually, ultimately, in total viewers, millions of people at home, I knew they were going to be really disappointed it wasn't moving forward, and I thought that they deserved as clear an explanation I could give them as to why it wasn't, and a chance for you, as their representatives, to sort of have at me and ask why isn't it coming back and for me to explain myself. I don't know why networks haven't done that before. I've never done it before. And I guess maybe it's just that I'm now coming up on seven years in this job. And in seven years, you have some great successes and moments of exultation, and you have bragging rights, and then you have some failures. And I think you just get used to the rhythms of both in your work and eventually you get to the point where you're capable of embracing your failures, learning from them, and talking about them. I think most programming executives are just fundamentally too insecure or too defensive to get to that point. And maybe I'm just old enough and I've been doing it long enough that I can take that tag.
"I think there's always been a disconnect, unfortunately, between audience taste and critical acclaim. I think in those rare circumstances where you all have near unanimity and are willing to stand up on a table and shout, 'This is the greatest show of all time,' I think you guys can move the needle. But I think the reality is that you disagree with each other most of the time. Unanimity is rare, and most of you don't feel you want to stand up on a table and shout even if you like a show, so you have to raise a huge din. You did raise a huge din on 'Mad Men,' and what that did - 'Mad Men' has become, by our analysis, literally the most critically acclaimed series in the history of television. (You have) taken it from a dismal ratings failure to ratings mediocrity." – John Landgraf
"When you get divorced in your forties, you don't have a role anymore on the earth. Roles make it easy for people to just sort of follow a template. I mean, so many people get divorced that there ought to be a template, but there isn't. So I think it's fun to watch frustration, too. So, like, the rule, sort of, that I have is Louie gets laid, but he never comes. That's basically the way it works. I'll probably stay that way. Nobody wants to see me come. That's awful." – Louis CK, "Louie"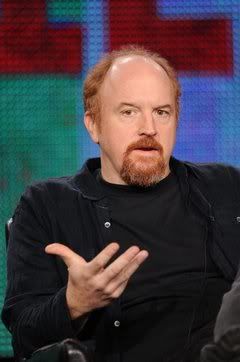 "I get really, really fucking sick of my own face working on this show. I start to hate the sound of my voice. Once I'm editing episodes, I really want to vomit into a big basket with my face on it. I mean, baskets aren't good for vomiting because it comes out the (holes). It's actually great that I do all of it because it's economical. I don't have to argue with anybody, and also everything I'm doing I know, like, when I'm writing something, I don't worry so much about how perfect the script might be because I know I'll be on the set looking after it. So sometimes I'll put in lines that don't seem like such a good idea, but I don't have to I know that, when I'm on set, I'll remember that I didn't really love that anyway. I just won't say it. Then, when I'm shooting it, I know because I'm going to edit it, that I can just delete certain stuff or shoot extra stuff. It's all kind of happening in my brain. Once I get a few episodes deep, it starts to get really hard. The acting probably suffers more than anything else because I give the least shit about it. So when I'm like producing a scene and directing it and setting up a shot and doing all this stuff, and then I sit in my role, and I go, 'Oh, God, I have to say this stuff. This is me,' and I usually don't know my lines. It takes me the first two takes are worthless, and then I start to remember what I wrote. But I wrote it. So it's not that hard." – Louis CK, "Louie"
"I never actually used 'Fight Club' in the pitch meetings, but I knew that we had succeeded in communicating what we wanted when, after I pitched the story to John Landgraf and the other executives, one of the executives who hadn't been involved at all said, 'Oh, it's 'Fight Club.'' And I was like, oh, perfect, along with other things. I mean, I kind of thought of it as 'Harvey' meets 'Son of Sam,' the takeoff." – David Zuckerman, "Wilfred"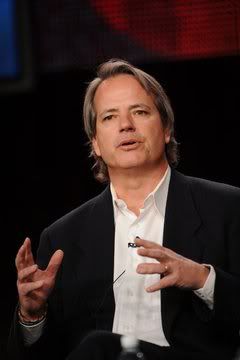 Q: There was, obviously, a point (on 'Justified') where you decided Boyd has to live. That's integral to the series. What was that conversation like with Elmore? Was there a moment where you had to really steel yourself and say, "We've decided that he's going to live"?
Graham Yost: No. Elmore was far more concerned about the hat. Right? I mean, we had things going back and forth and different hats and this and what kind of hat he should wear. Finally, Elmore said, 'Okay. You do what you want.'
Timothy Olyphant: He didn't like it.
Graham Yost: You know what, I think he understands, since we had to find the hat that looked good on Tim and looked good for the show I can't believe we're talking about the freaking hat after all this time but in terms of Boyd, no, because he saw the pilot, saw Walton and said, 'Oh, God, yeah, that would be great.'
Q: So it wasn't even a speed bump?
Graham Yost: No. We've mangled his work in far worse ways than keeping Boyd.
1/15/2011
Winter 2011 TCA Press Tour: Day 10 – or – The Day Will Hit the Wall
: The TCA tour lasts for about two weeks. That's two weeks away from your family where you're spending the majority of your time sitting in a hotel ballroom, listening to panel after panel about upcoming TV shows. Don't get me wrong: I'm enough of a TV geek that I enjoy it from start to finish, but at a certain point, you find that your enjoyment begins to be regularly supplanted by the desire to just grab your shit and go the hell home. As a professional, I do my best to rise above this, which is why I invariably stick it out 'til the very last panel of the tour, but when you start considering the shit-grabbing and home-going more often than you find yourself thinking, "Say, this show sounds pretty good / awful," this is what is known in TV critic parlance as "hitting the wall."
And, baby, I have hit it.
When I woke up on the morning of Day 10 of the tour, I had a headache. It was the first time I'd had one since arriving in Pasadena, and, of course, I took it for what it was: a sign that both my body and mind were ready to return to Virginia. Little did I realize that it was really more of a portent of the evil that would cross my path on this day…but we'll get to that. With a job to do, I popped a couple of Motrin, swigged some coffee, and entered into the day's panels, which consisted of shows from the CBS family of networks, which includes, of course, CBS ("Chaos," "Mad Love," "The Good Wife"), but also Showtime ("The Borgias," "Shameless," "Californication," "Episodes") and The CW ("Shedding for the Wedding"). There were also executive sessions for the various networks, as well as one for the "Kick Ass Women of The CW," featuring stars from "Hellcats," "The Vampire Diaries," "Nikita," and "Smallville."
Looking at the talent list for the various panels, there were certainly people I wanted to chat with, but I've always had trouble picking up interviews for Showtime series, a fact which all but killed my chances with many of the most interesting actors in attendance, including Jeremy Irons, William H. Macy, David Duchovny, and Matt LeBlanc. Heck, I couldn't even pull a one-on-one with Colm Feore, although I did end up chatting with him later in the evening while pretending to be Canadian. (Don't ask.) But I did at least make it into post-panel scrums for Irons, Macy, and the ever-gorgeous Carla Gugino, so there's that, at least. And amongst the cast of CBS's "Mad Love" is the always amiable Tyler Labine, who I've been interviewing at TCA since my first tour, when "Reaper" debuted, so he and I got in a good one-on-one.
Most of my afternoon, however, was spent in a funk. Maybe it's because I'd hit the wall, but I found myself getting progressively grumpier about the way various actors' personal publicists were acting. One assured me that I could do a walk-and-talk with their client, who was in a rush to get to another appointment, only to promise the same thing to another writer moments later and leave me in the dust. Another deigned to let me do a one-on-one with her client, then – outside of her client's line of vision – starting tapping her watch ferociously before I'd even had two minutes of conversation. (This was particularly infuriating because the writers before and after me had neither a time limit nor been "chaperoned" during their interviews.) It was also a major bummer that the evening event was an hour-long cocktail party where the attendees were limited to the shows on The CW which were represented on the network's panels.
Despite my relatively grouchy attitude throughout the day, there were still some highlights on the panels that are worth mentioning, so here they are…
1. Q: Given Charlie Sheen's antics over the weekend, how would you characterize your level of concern about him, and what is the network doing to help him?
Nina Tassler (with all due sarcasm): Well, I really didn't expect that question this morning. So I'm just…I'm really taken by surprise. Look, obviously, we've thought, and I personally have thought, a lot about this, and we have a high level of concern. How could we not? But I have to speak to this personally first. On a very basic, human level, concern, of course. This man is a father. He's got children. He has a family. So, obviously, there's concern on a personal level. But you can't look at it simplistically. Charlie is a professional. He comes to work. He does his job extremely well. We are taping tonight, and it's…it's very complicated, but we have a very good relationship with Warner Bros. I have a tremendous trust and respect in the way they are managing the situation. So, on a personal level, obviously concerned. On a professional level, he does his job, he does it well, the show is a hit, and…that's really all I have to say.
2. Question: Jason, what about your character (in "Mad Love")?
Jason Biggs: Without giving too much away, obviously, I have sex with a sheet cake in the second episode.
Sarah Chalke: We weren't going to reveal that!
Judy Greer: Way to go.
Jason Biggs: I don't know if that's a spoiler alert. Sorry, guys.
Judy Greer: That's the cake we used for what's her name's birthday? Just kidding.
Jason Biggs: Yes. Yes, it was.
Judy Greer: I had a piece of that!
Jason Biggs: No. There are some situations. I wouldn't say they are exactly, you know, akin to some of the I mean, let's be honest. Those were very R rated, and some pushing NC 17 scenarios.
Matt Tarses: He loses his pants in Staten Island.
Jason Biggs: But I do lose my pants in Staten Island. So you do see me pantsless, which I think is what my fans demand of me in general and but yeah, there are some I mean, Matt has written, for all of us, some kinds of crazy situations. I mean, it's inherent to this format, I think, is to create situations that are quite comical and kind of crazy. And for someone who can the person that does it right, they are funny, but they are also grounded in reality somehow, and they are with characters that you like and all that good stuff. And I feel like that's what's happening here. So, among those situations, which I believe there are some in every episode, one of them I lose my pants in Staten Island. The other one I have sex with a sheet cake.
3. Q: Freddy, describe what happens when you read a script that says, "Next, Rick eats a scorpion." What was that like? And when you filmed it…I'm sure you didn't eat a scorpion, but whatever you were holding…
Freddy Rodriquez: How are you so sure?
Q: It looked realistic. You were holding something that was wiggly and scary. Just describe what it was like when you heard you were going to do it and what it was like to do that scene.
Freddy Rodriquez: Well, to be honest, I wasn't sure what it was going to be when I got there. And when I got there, if you remember, Tom…
Tom Spezialy: Oh, I remember.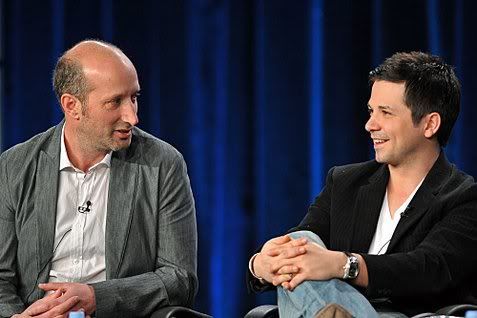 Freddy Rodriguez: …it was a real scorpion. I had a slight anxiety attack, to be honest, right? And then I got over it. And then I asked Brett Ratner to hold it. I would do it if he would hold it, and he refused, and we had an exchange. And after a while I got over it, and it was fun. I mean, when I read the script, there were so many great things that my character was doing in the pilot that I had to be involved even if it had to do with holding a scorpion. It was a real scorpion. I think they put Krazy Glue on the stinger, (but), yeah, it was real.
Q: What does it look like to see that thing wiggling in front of your eyes?
Freddy Rodriguez: Scary. It's scary.
Tom Spezialy: It peed on him.
Freddy Rodriguez: Oh, yeah, it did. At one point in the night, it just…I didn't enjoy the experience…it started peeing on me. And I didn't know what it was. I just thought it was, like, spraying me with some sort of poison or…I wasn't sure what it was, but it was urine.
Eric Close: Are you sure it was urine?
Freddy Rodriguez: Yeah, it was urine. Gave me golden sunshine, I guess.
4. "Thank you for coming out, and thank you for showing the interest in the show. Michelle (King's) and my moms keep sending us emails linking to great complimentary articles and reviews of ('The Good Wife'). So we're very aware of what support we get from the critical community…and our moms are very aware of it, too." – Robert King, "The Good Wife" (CBS)
5. "I wouldn't say they (CBS) ever ask us to make things more morally clear. I mean, sometimes cases need to be made clear. And in terms of what we can do on broadcast versus cable, I think we can pretty much do it all except say 'fuck.'" – Michelle King, "The Good Wife" (CBS)
6. "(The title) 'The Good Wife' was always meant ironically. I think it's actually very descriptive. I think the comment I made was it would have been nice to be ironic and call it 'The Sexy Wife' or 'The Sexy Wife Whose Husband Goes Down On Her' or something like that. That might have brought in more people." – Robert King, "The Good Wife" (CBS)
7. I read something about Pope John the Pope John Paul, is it, the Polish Pope. And it was from a Catholic theologian who said he wrote, actually, 'Habet duos testiculos et bene pendentes.' He said, 'This man is well hung. That's why he deserved to be Pope.' Now, certain things the Vatican will not reveal to all of us, but there is a chair, apparently, a Porphyry Chair, with a large circular hole in it to so these examinations can be made. Now, many people will deny that, but I've read I read reputable historians who says it happens, okay? Perhaps no longer, but then it did." – Neil Jordan, "The Borgias" (Showtime)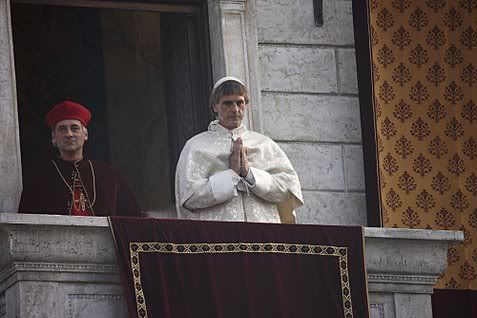 8. "I think (Rodrigo Borgia) is a pretty good guy just doing the best he can. I mean, power corrupts, you know. It was a time quite unlike the time we live in today. There were murders in Rome every night, poisonings most weekends. There was incest here and sodomy there. You know, it was a good old rolling, rollicking society. And if you've got to try and run that, which the Pope attempts to do, then, of course, you've got to play by some of the games, by some of the rules that society follows. I didn't judge him at all. I just tried to hang on by the hang onto the position and do what he wanted too. I think it's up to the audience to say what is good, what is wrong, what is right, and then think how much wonder how much has changed as you look at present day Italy or present day almost anywhere of power. I think there are huge parallels about what people get up to in order to hang on to power and in order to get their way. I don't think anything has changed, and perhaps those thoughts will go through our minds when we judge these people. I played him. I thought I was quite a good guy. But George Bush probably thought he was quite a good guy, too." – Jeremy Irons, "The Borgias" (Showtime)
9. "As a director, ('The Borgias') is a nightmare because (the actors) all come with the books about their character. 'Hang on, I didn't do that. Look, it says here he did this. It says here he did that.' Stop, please." – Neil Jordan, "The Borgias" (Showtime)
10. Tom Kapinos: You know, I think we've always had great luck, first and foremost, (getting guest stars for 'Californication.') But as we go along, it seems we attract more people. You know, we get a lot of calls of, like, 'So and so would love to do the show.' This year that didn't happen. We had to actually go out and aggressively find people. But we had Carla (Gugino), who I told her when we first met that I was a fan for a long time. And I don't know if she believed me, but that was very true. And it was so awesome to get her. Rob Lowe was a complete accident. We went after him. His agent told us he was unavailable. Then David's hairstylist somehow made it happen.
Carla Gugino: That's Hollywood for you.
David Duchovny: It's a long story, but my hairstylist can make a lot of shit happen.
Tom Kapinos: It's really more of a hair ninja.
11. "It sure is fun to play someone who is toasted all the time. In my whole career, I feel like I've spent a lot of time speaking for the little guy, the disenfranchised. And whether you like it or not at this moment, perhaps in this room, but certainly all across the country, a lot of people are really toasted right now, drunk as skunks, and I speak for them. I am the spokesperson for people who like to start the day with a couple of brewskies." – William H. Macy, "Shameless" (Showtime)